Chalguh Chengi Live Music and Dance Show
Thanks to Arts Council of England, our Chalguh Chengi show is back on tour again this summer!
Past
We are delighted to announce our summer show Chalguh Chengi!
A vibrant, colourful and accessible exploration of popular, folk and classical music, songs and dance styles rooted in the traditions of Turkey and the Middle East.
Introducing the evocative sounds of an array of Middle Eastern Percussion, Oud, Saz, Zurna, Piano Accordion, Clarinet, Violin and Classical Kemence, with the beautiful vocals of Sevilay and spectacular dance by Anna Kemper. Supported by Arts Council England.
2021 Tour Dates
10 July at Frome Festival, Frome
11 July at St George's, Bristol **
17 July Streatham Common Rookery, London
24 July St Ann's Wells Gardens, Brighton
15 August St Andrews Park, Bristol
5 September Schtumn, Bath **
** Indicates small ticketing fee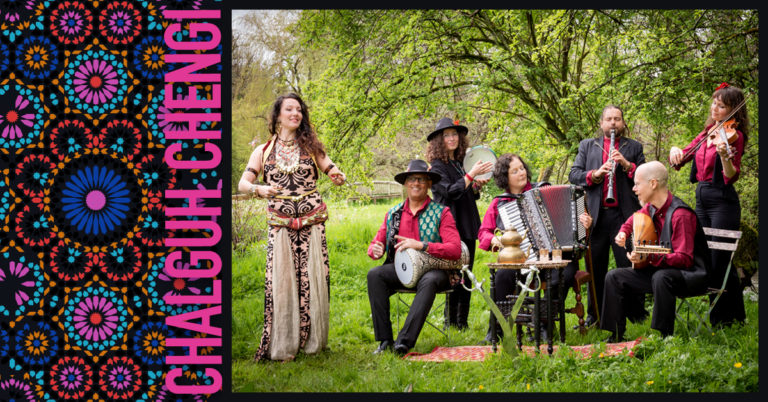 Follow the show on Facebook and Instagram
Photo by Emma Brown

14 December 2019 – Christmas Hafla / Dance Party with Hazir Ensemble
Dance the night away to the live music of Hazir: intoxicating, high-energy, shimmy-inspiring songs and rhythms from across the Middle East, Turkey and beyond. Come and party with friends old and new! Shared buffet – bring a dish and bring your own drinks.
**Advance Booking Essential**
Tickets £10 (under 12's free)
Doors open at 7.00pm
Venue: Backwell W.I. Hall (behind Parish Hall),Station Road, Backwell, BS48 3QW
Tickets: www.brownpapertickets.com/event/4370579
Nov 2, 3 2019 – Turkish Music and Dance Weekend
A weekend of workshops and performances to celebrate Turkish music and dance.
We are going run some drumming and singing/melody workshops at the weekend as well as supporting Sacha Tremain's 9/8 Turkish Romani dance workshop with live music. International star of Turkish Oryantal style, Ozgen Ozgec will be also teaching and performing at the weekend.
We are going to play at the Saturday night party: A Night in Istanbul
Old Sodbury Village Hall, Old Sodbury, BS37 6NE
7pm-11pm
For more information and to book online, visit:
www.sachabellydance.co.uk/events-and-classes/
14th Sep 8.30pm – An Evening with Hazir Ensemble
Hatch Court, Kingsbridge in South Devon
A house concert so donations on the door instead of tickets.
Please contact us directly for directions and any other queries.
Bradford Roots Music Festival 2019 Weekend
Saturday 19 January 2019 – Bradford On Avon
Hazir will be performing on the main stage at 3.15pm at Bradford on Avon's beloved Roots Music Festival.
For more details and tickets: Wiltshire Music Centre
Moon and Stars Dance Showcase 2019
Saturday 9 February 2019 – Chipping Sodbury
Doors open 7pm – Details and Tickets
Venue:
Chipping Sodbury Town Hall
57-59 Broad Street
Chipping Sodbury
BS37 6AD