Lulu Austin (Violin/Percussion)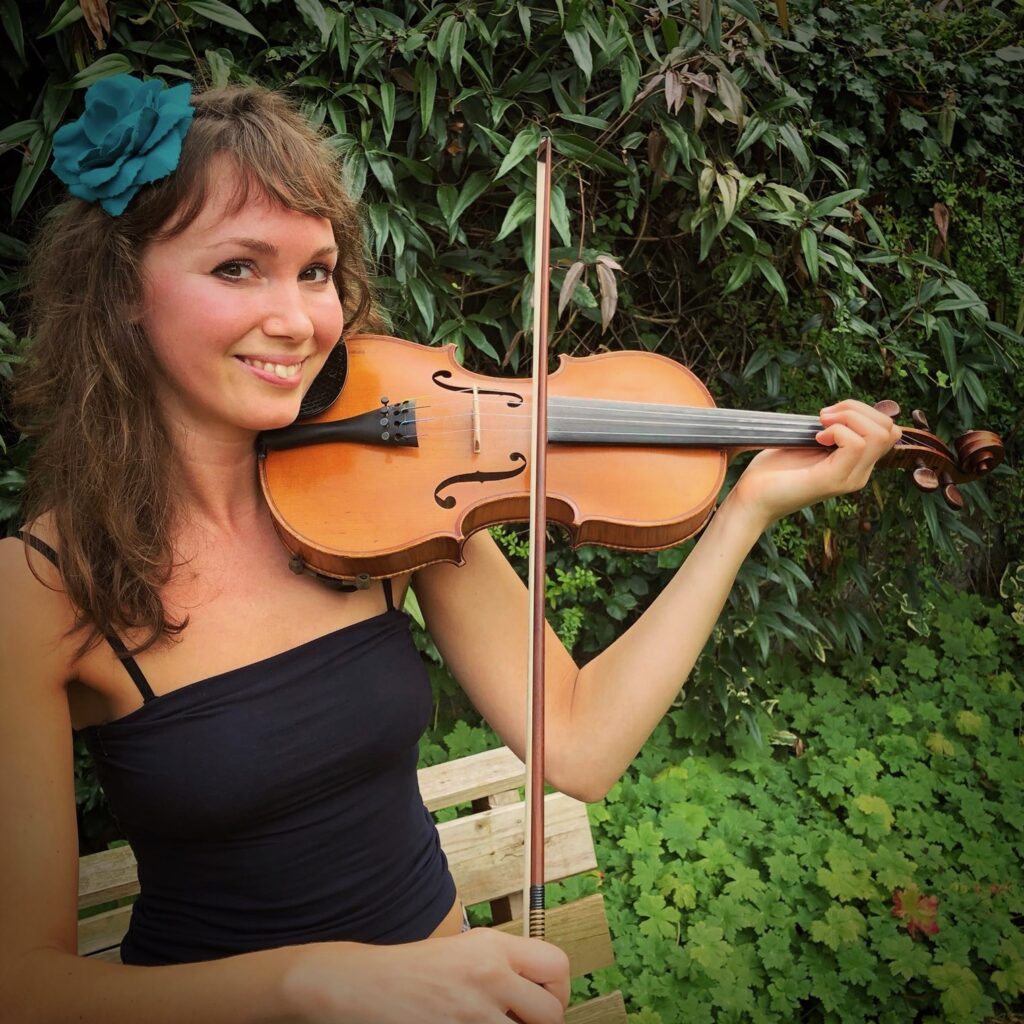 Lulu has travelled widely across India and the Balkans, learning Eastern music first hand from masters of the traditions. She has studied many different styles of world music, including Modal/Greek/Turkish music in Crete with Giorgos Papaioannou, Bulgarian music with Atanas Slavov at The Plovdiv Academy of Music and Dance in Bulgaria, Middle Eastern music with Maren Lueg in Turkey, and Klezmer music with Arianne Cohen-adad in Belgium.
Lulu has performed with hip hop/gypsy/ska band Fat Sandwich at UK festivals such as Boomtown, Glastonbury and Secret Garden Party. She played at venues throughout Bristol with klezmer and jazz band Chai-for-all. During her travels Lulu joined the Master Drummers of Rajasthan to play at Indian weddings, and was part of a clown act in Calais refugee camp. She enjoys solo street performances as well as playing with story-tellers and for children's theatre shows.
Lulu currently performs with Balkan quartet Opa Rosa, and is training as a Suzuki teacher. She loves to travel, teach, perform and experience different cultures. Her greatest passion is to share Balkan, Middle eastern and folk music from around the world.
Elvin Herrick (Darbuka/Riq/Frame Drums)
Elvin began his musical career as a teenage guitarist in various bands touring the Welsh music circuit.
Elvin moved on to play djembe, congas, bongos and cajon, gigging and recording over a 15 year period. However, when he came across the the darbuka playing of Syrian musician Issam Houshan, he knew he'd found exactly the creative outlet he had been looking for.
Elvin has studied intensively with internationally renowned teachers of Arabic percussion. In addition to Hazir, he has performed with various ensembles including Ommodom, Laylet Amar and Club Cairo. Elvin is also a highly regarded teacher, running drum workshops throughout the UK and working with a sparkling array of dance performers.
Simon Leach (Oud/Saz/Percussion/Zurna)
Simon is a multi-instrumentalist, playing oud, saz, guitar, keyboards, frame drums, darbuka, zurna and other pipes and whistles from various traditions. As well as playing with Hazir he has played with Eastpole Orchestra, Club Cairo dance theatre, Mr Dowland's Midnight and recently toured Palestine and the UK with Chai for All. Simon also enjoys playing music for improvised dance of all varieties.
Simon works as a music therapist for MusicSpace, a Bristol based charity. He is especially interested in the ways we can connect, communicate and express ourselves through collective improvisation in music and other mediums.

Jo Levine (Piano Accordion/Piano/Percussion)
Jo is from a family of musicians and studied piano and composition before discovering the piano accordion and a love of Klezmer and Eastern European music. Jo's current focus on Arabic and Turkish styles has been inspired by the great quarter tone accordionists, in particular Elias Lammam and Sheik Taha. Jo has performed with Malarchy, Eastpole Orchestra, Souk Bab El Louk, Mazaj Quartet and Hazir. Appearances have included at Glastonbury Festival of Performing Arts, WOMAD, International Fethiye World Music Festival (Turkey), MidEastFest (UK), Muchelsalat (Germany) plus arts centres, pubs, theatres, fields and quays across the UK.
Tom Parry (Clarinet/Saxophone/Duduk/Percussion)
International man of mystery, Tom's many varied and fantastical adventures on the high seas, low deserts (and occasionally in mid-air) took him on an epic journey through Europe and the Middle East, in the midst of which he made the fortuitous discovery that he could play music by absorbing it at a cellular level. Some of the many highlights of his experiences include working as a snake charmer in Egypt and narrowly missing being devoured by a pack of roving desert hyenas. If you want to know why Tom blames a legendary rock bassist for this incident, or anything about the unexploded bomb, you'd better ask him yourself…
As well as his day job entertaining the under 5's, Tom fully deserves his title 'Two Gigs Tom'; he is much in demand as a performer with a multitude of bands including Ish Kabibble and Hungarian 'rock mashup' outfit Jirzy Mendes.
Sevilay Ataseven Turlington (Voice/Percussion)
Sevilay is from the Mediterranean coastal area of Turkey, and spent her childhood immersed in Turkish regional and national music and folklore. Sevilay has been resident in the UK for almost twenty years and has enjoyed bringing the music of her homeland to new audiences. A chance meeting with members of Souk Bab El Louk in a carpet shop led Sevilay to perform with the band, including at Sunrise and Glastonbury Festival of Performing Arts. Sevilay has been a regular workshop tutor and performer at MidEastFest UK.
Currently, in addition to being the lead singer of Hazir, Sevilay also sings with Orient Express, an international ensemble based in a small Wiltshire village. Sevilay started to play Turkish kemenche when she saw herself playing it in a powerful dream. She has since begun to venture into instrument making, carving a classical kemenche from a solid block of English Cherry wood.